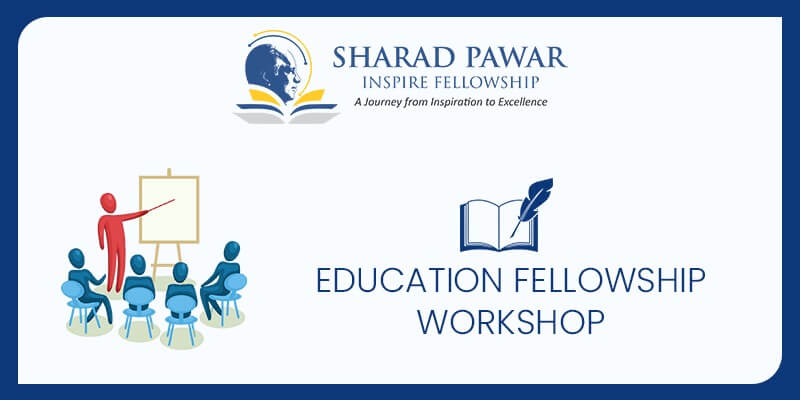 • Sharad Pawar Education Fellowship Workshop was conducted.
Under the 'Sharad Pawar Inspire Fellowship in Education', a workshop was organized by Yashwantrao Chavan Centre on May 28, 29 and 30, 2022 at Agricultural Development Trust, Baramati to orient the Teachers about this fellowship. The workshop was undertaken on the occasion of Sharadchandraji Pawar saheb's 81st birthday. 20 teachers from primary and secondary schools across the state participated in this workshop.
Datta Balsaraf in the introduction outlined the overall work of Shikshan Vikas Manch. Verticle Head Yogesh Kudale briefed about the fellowship and explained the objectives of the workshop. Ajit Tijore outlined the format of the workshop and also conducted an ice breaking session for the fellows. In his opening speech, Hemant Takle- Treasurer of Chavan Centre, encouraged the teachers to take up new activities and conduct them in innovative, scientific and objective manner across schools. In the afternoon session all the researchers presented their projects/ research topics through PPTs and received appropriate guidance from the experts Dr. H. N. Jagtap and Dr. Seema Pardeshi on it.
• Second day (Sunday May 29, 2022)
The second day started with a song "Dheere Dheere Yahan Ka Mausam Badal Raha Hai" sung by Somnath Valke. Chief Coordinator of Shikshan Vikas Manch Dr. Madhav Suryavanshi introduced Dr. H.N. Jagtap to the participants. Dr. Jagtap reviewed the presentations of the teachers and guided them with suggestions to improve.
The subject of 'Innovation' was discussed briefly revolving around various points.
• Need for Innovation:-
Dissatisfaction with the current situation.
Creation of new knowledge
Development of curiosity in students.
To reduce unnecessary hardship.
Development of research skills in teachers.
• Characteristics of innovation:-
An innovation is an innovative activity undertaken by a person committed to excellence following a path different from the traditional method.
Innovation.
Problem solving with visionary thinking.
Creating happiness through innovation
Universalization of the initiative.
Emphasis on qualitative analysis.
• Aspects of Innovation:-
Innovation - time-based, site-based, content-based, person-based.
Classicism
Success
Utility
Generalizability
• Subjects for innovation:-
Study-Teaching
Evaluation
School environment and interpersonal relationships
Student Teacher Relationship
Teacher-Parent Relationship
Co-curricular activities – Viewing as part of the curriculum.
Based on the above points Dr. H. N. Jagtap did a detailed analysis.
• Second Session – (Action Research) -
Dr. Seema Pardeshi interacted with the participating teachers by asking their thoughts on 'Quality' and then briefly explained the "Nature of Educational Action Research".
Inquisitive study of daily school work.
Improving work quality by solving problems in a scientific manner.
Improving work quality by conducting experiments
Finding various ways or means to improve the work with limited resources.
Evaluating meaningful ways/solutions to problem solving and determining conclusions.
To verify the ways/solutions found to solve the problem as per the conclusion.
• Objectives of Action Research:-
To study the problems arising in daily educational practice in a scientific manner.
Finding suitable solutions to solve problems and drawing conclusions based on it.
To raise the academic quality of the work by making appropriate changes in our school work based on the findings.
In order to undertake action research and carry it out successfully, teachers need the following seven things: Faith in one's work, Loyalty, Dedication and Work-satisfaction, Creativity, Scientific & Optimistic attitude.
Dr. Seema Pardeshi further gave a detailed explanation and made an analysis of Action Research Report writing.
• Steps in Action Research:-
Identification of Broad problem, Definite problem, Possible causes and Hypothesis, Facts, Evaluation measures are the essential five steps of Action Research which cannot be skipped.
The primary section of the Action Research Report consists of title page, first page, testimonials/affidavits, references, index. The main section includes introduction to the research topic, literature review, data collection, analysis and interpretation, conclusions and recommendations. The final part of the action research report consists of bibliography and appendices.
In the later session, a group discussion took place among Savitribai Phule, Karmveer Bhaurao Patil, Anutai Wagh and J.P. Naik Groups. Each group was assigned a coordinator. Before the Q&A, Mahendra Ganpule and Yogesh Kudale gave necessary instructions regarding the fellowship to the Teachers present. After that, Dr. H.N. Jagtap and Dr. Seema Pardeshi cleared the doubts by answering the questions asked by Krishna Kudale, Somnath Valke, Rajkiran Chavan.
• Third Day (Monday May 30, 2022)
Dr. Madhav Suryavanshi introduced the expert guide Kishore Darak. Education expert Kishore Darak interacted with the fellows on the topic 'Teachers and Long-Term Efforts for Quality Education'. Speaking on the topic, he urged the teachers to strive for equitable education. Appropriate changes are expected in students through education and teachers must make this happen through their varied teaching methods. Also teachers must do their primary job of teaching well and have a sense of accountability towards the school and society. Teachers should evaluate their own work periodically and accordingly use the best teaching methods in the classroom. They should constantly strive for quality education.
Yashwantrao Chavan Centre's Working President MP Supriya Sule interacted with the fellows. She encouraged the fellows to think out of the box and always stay updated about new changes in education. While talking to science teacher Praveen Shinde from Jamkhed, Rajkiran Chauhan from Solapur, Atul Sawankhade from Pune, Varsha Gaikwad from Baramati, Punam Patil from Solapur; she asked each fellow to make a 10 minute video about their projects.
She then discussed about each teacher's research topics and related preparations made, with Umesh Khose from Umarga, Jagdish Kude from Jalna, Shilpa Patil from Mumbai, Somnath Valke from Ashti, Ram Jadhav from Ahmednagar, Nandkumar Bokade from Buldhana, Kishore Bhagwat from Buldhana, Shivani Limaye from Pune.
She said that fellows should discuss with one another and exchange information that would open new avenues for them. She assured the teachers that Yashwantrao Chavan Centre would provide all necessary support needed. She appealed that the teachers must take special efforts to get the children out of technology trap or addiction.
Chief mentor of MKCL Vivek Sawant said that the collaborative activity through this fellowship will benefit all. In the future, teachers will have to accept the role of 'teachers of the students' instead of taking the role of 'subject teachers'. He mentioned that this fellowship is visionary in nature and thus the teachers must play a significant role in shaping good students through quality education. He assured that necessary support will be provided to the teachers.
• A meet with Hon. Sharadchandraji Pawar:
On the last day of the three-day workshop i.e. on May 30, 2022, all the winners of the 'Sharad Pawar Inspire Fellowship 2022' in the fields of Literature, Education and Agriculture interacted with Sharadchandraji Pawar. He was briefed about the various projects, innovations, action research and activities undertaken by the fellowship winners.
Education Fellowship Expert guide, Dr. H.N. Jagtap gave topic wise information about the innovations and action research projects undertaken by the researchers. He said that the innovation, utility and broad perspective of the research projects complement the purpose of this fellowship. Umesh Khose, Praveen Shinde, Rajkiran Chavan, Dr. Shilpa Patil, Poonam Chavan, Somnath Valke, Krishna Kudale, Appa Sawant, Spokesperson of the Principals Association and Pune District Shikshan Katta Coordinator Mahendra Ganpule, Chief Coordinator of Shikshan Vikas Manch Dr. Madhav Suryavanshi, Program Manager of Yashwantrao Chavan Centre, Datta Balsaraf revealed the names of fellowship recipients, their quality academic work, research topics and future planning. Hon. Pawar Saheb appreciated all the fellow teacher researchers.
The workshop concluded with a vote of thanks by Datta Balsaraf.